Our Women's History Walking Tours
we offer a range of women's history walking tours - read more below!
Throughout our Women's History walking tours, your experienced and passionate tour guide will share the stories of the Women of London.
Our walking tours cover a wide range of women from different backgrounds, times and who, in different ways, had an impact on Women's positions in society.
Whether its the campaigners in Westminster, the factory workers of East London, or the writers of Bloomsbury, we have a walking tour that will suit your interests.
All of our tours are about sharing the stories of Women throughout history. Highlighting their struggles and celebrating their successes, everyone is welcome to join our Women's History walking tours and celebrate with us!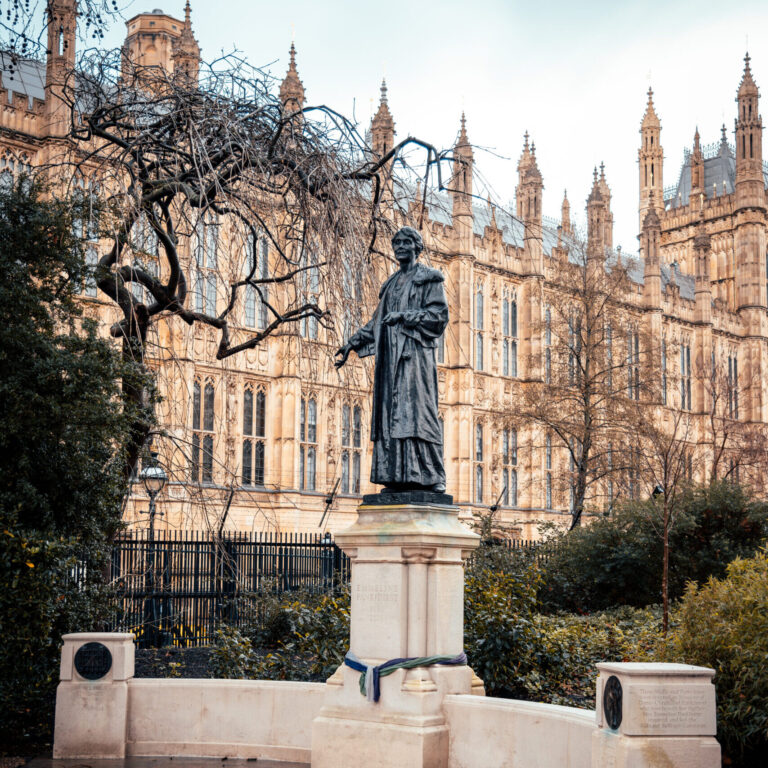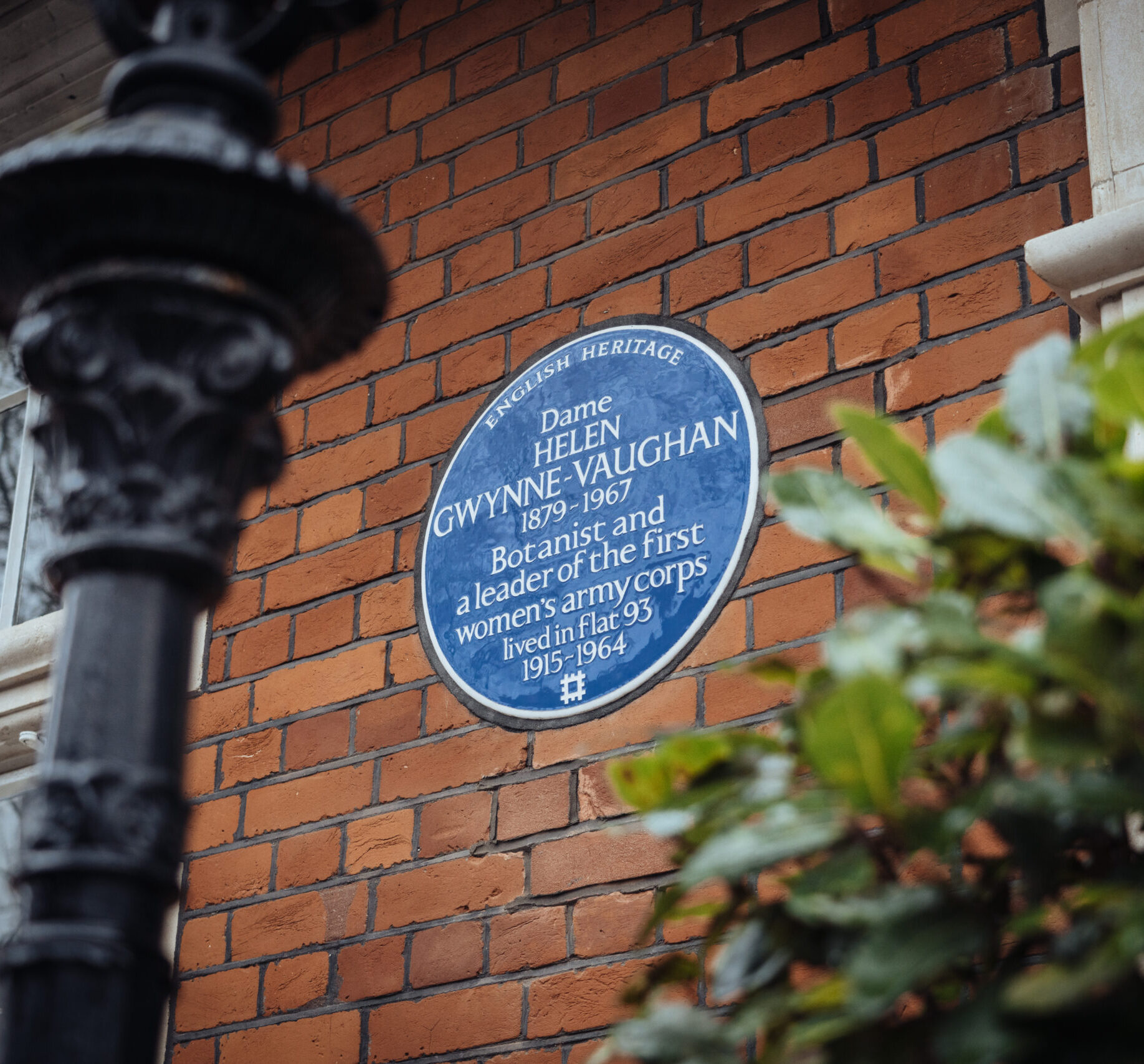 Our outside walking tours last between 2-2.5 hours, please note a booking is required. Please see out booking page for availability
We also accept requests for different start times, larger groups and private tours.

You can contact us on [email protected] and we will get back to you within 24 hours.
Our Walking Tours - bookings open now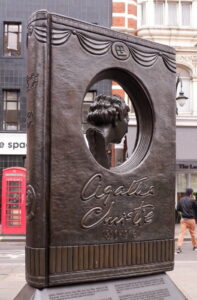 Our Women Of Westminster walking tour starts at the Agatha Christie memorial on Cranbourn Street (see Map 1 below).
Throughout the tour we will visit a range of memorials to Women located around the City of Westminster. The memorials we visit will be to Women who have contributed to Literature, Nursing, Politics, Campaigners and Women in War Time. At each location your tour guide will explore the significance of each of the women and their struggles and successes. Whilst also revealing the history of the memorial and the thought behind the design. We hope you will walk away from this Women's History Walking Tour knowing that among the larger London landmarks there are hidden and often overlooked memorials to important women who changed history.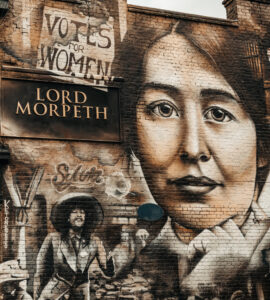 The East End of London experienced through the struggles and achievements of Women! The East End has been an important area throughout London's rich history. A place of refuge, change, idealism but also crime and poverty, its full of stories that draw in locals and tourists alike.
This walking tour aims to change the way the East End is seen, by highlighting the Women involved in the areas vibrant history. We will share the stories and locations important to Britain's First Feminist; Mary Wollstonecraft, the East London Suffragettes, Anna Maria Garthwaite, the Match strike of 1888 and much more! The walking tour starts outside Tower Hill Station next to the Tram Refreshment cart (see Map 2 below).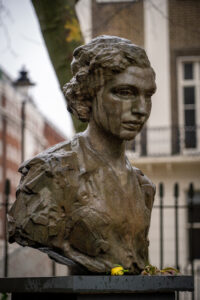 A walking tour around the picturesque neighbourhood of Bloomsbury.
The area of Bloomsbury has, throughout history, been linked to London's culture, intellects, artists and writers. Today while exploring the picturesque neighbourhood, with its cosy public squares, you can stumble across numerous blue plaques and statues marking where notable women once lived, worked and died.
This walking tour which starts at the Cambridge Theatre in Seven Dials (see Map 3 below) will take you around Bloomsbury, walking in the footsteps of writer Virginia Woolf, World War Two Spy Noor Inayat Khan, abolitionist Mary Prince, Britain's first female dentist Lilian Lindsay and many more...!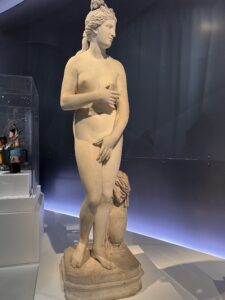 Join us this winter to explore the history of women through the objects inside one of London's most popular museums. 
Your tour guide will take you to objects in the museum related to women in Mesopotamia, Christianity, Greek Mythology, Hindu and Viking cultures, plus much more! Throughout the tour you will learn about warriors and icons, visit one of the oldest tablets written by a women and discover the different positions women held around the ancient world. Each object you visit will give you an insight into how different cultures through history worshiped, feared and depicted women.
Meet your tour guide outside the main entrance to the museum on Great Russell Street,  in between the two red telephone boxes, 10 minutes before the start time of the tour. (see Map 5 below)  
This tour will last approximately 2 hours, afterwards you are free to keep exploring the museums collection.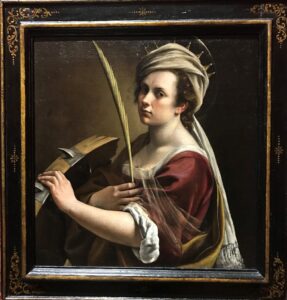 A walking Tour celebrating the contributions of women in the history of art.
For centuries History of Art has been studied through the world, achievements and eyes of men. This walking tour aims to change that narrative by taking you through the collection at the National Gallery, highlighting a wide range of themes surrounding women in art.
Discover the art of 17th century Artemisia Gentileschi, who was influenced by the naturalistic style of Caravaggio. Meet Rachel Ruysch, who throughout her career commanded more money for her art than Rembrandt ever did. Learn about the work of impressionist artist Berthe Morisot, who exhibited her art alongside Monet, Degas and Renoir, despite restrictions on her gender.
This walking tour will start at the red telephone box outside the Sainsbury Wing of the National Gallery (see Map 4 below).

Map 1:
Women Of Westminster: Meet your guide at the Agatha Christie Memorial, Cranbourn Street, WC2H 9JZ
Map 2:
Working Women of the East End: Meet your guide at outside Tower Hill Underground Station, next to the Tower Hill Tram Cart, EC3N 4TH
Map 3:
Women Of Bloomsbury: Meet your guide at the Cambridge Theatre (currently showing Matilda) in Seven Dials WC2H 9HU
Map 4:
Women in Art: Meet your guide at the red telephone box, outside the Sainsbury Wing of the National Gallery, WC2H 7HA
Map 5:
Myths, Mothers and Matriarchs: Women in the British Museum: Meet your in between the two red telephone boxes next to the main entrance on Great Russell Street